This article was originally posted by Ryan at the original HillRunner.com Blogs.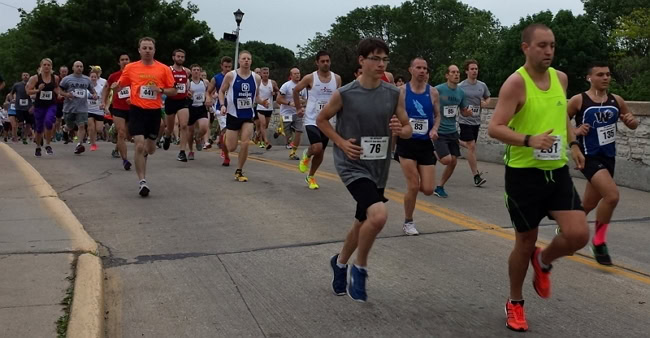 A different runner than 15 years ago
During my high school, college and even early post-collegiate years, I was an inconsistent runner. Anyone who knew me in the late 1990s and early 2000s knew I could put up a sub-16 5K or struggle to get home under 17 minutes in any given race. In any given 10K, I could go sub-33 or struggle to break 35 minutes.
Why? I was obviously capable of sub-16 and sub-33. It had nothing to do with my fitness or physical preparation. It had everything to do with what was going on above my shoulders.
At times, I'd enter a race with what I would now call a calm confidence. I'd be relaxed, knowing what I was capable of and knowing what I had to do in order to execute the good race. I'd feel the anticipation and excitement of race day but my mind was in a good place. My thoughts were positive, focused on executing the plan and knowing that the execution would lead to a good result.
Other times, for whatever reason, I'd enter a race a nervous wreck. I remember one race my sophomore year of college where I stopped during my warmup to retie my shoe. I put my foot up on a bleacher and I was so nervous I couldn't even hold my foot still. I got myself too worked up about going after the result and I wasn't centered and focused on executing the plan I knew I was capable of executing. I wasn't thinking positively about how executing the plan would lead to a good result. I was thinking "I have to…" Those three words lead to bad thoughts, which lead to bad performances.
These days, I'm a different runner. Not every race is going to be a good race for anyone. No matter what, we all have bad days. However, I've stopped putting pressure on myself. I go in knowing that the best result will come from that calm confidence in going in with a plan that, once executed, will lead to the best possible result. I know what result I want but I also don't put pressure on myself to hit that result. I know the best I can do is execute the race as close as possible to perfectly and see where that leads me.
So how did I get from where I was to where I am now and how can you follow the same path to more consistent results?
There are a few keys that I've learned along the way. Mostly alluded to above but I want to lay them out clearly.
1) Know what you can do and believe in it: Look at your training and how it has gone. Be honest with yourself about how your training has gone. Learn what this means and what result is possible. It can also be good to have a handful of workouts that you know well enough to know what kind of race times they indicate based on how you run them.
I would also note that it's better to be a little conservative with estimating what you can do than to be too aggressive. Because…
2) Have confidence in your goal: …you need to believe you are 100% capable of what you're setting out to do. This is why, when I'm helping runners set their goals, I let them set the goals. I want them to set a goal they fully believe in. I'd rather see someone say they want to run a 3:30 marathon than 3:20 if they don't believe they can run 3:20. Even if I believe they can.
3) Focus on the process more than the goal: Plan your race to meet your goal. Then execute the plan. Focus on the plan. Because it was planned to meet the goal you have 100% confidence in, it should be a plan that you have 100% confidence in. If you execute the plan, which you have full confidence in executing, the result will come.
4) Roll with the punches: There are a lot of variables on race day. Something won't go perfectly to plan. Be prepared for that and ready to adjust the plan as necessary. Most surprises aren't as serious as we think they are when they first happen. If you can remain calm, you can adjust the plan usually pretty simply and still hit your goal.
If you get caught with a big surprise like a strong headwind or extreme heat, you may need to adjust your goal but everyone will either adjust their goals and plans in that situation or pay the price.
In the end, it's about heading to the line with that calm confidence. Sure, you're excited for the race but you're also standing at the line ready because you know what you can do and how you're going to go about doing it. When something unexpected happens, you're ready for it because you know something was going to happen and you can calmly make the best adjustment to get back on track.