This article was originally posted by Ryan at the original HillRunner.com Blogs.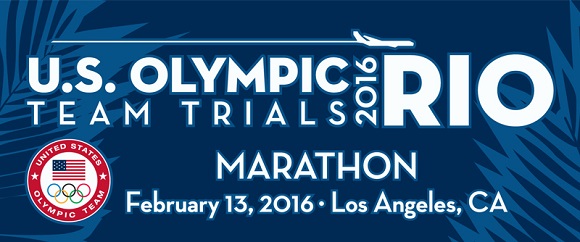 The US Olympic Trials for the marathon is this Saturday in Los Angeles. The races will be broadcast live starting at 1pm Eastern on NBC or you can check NBC Live Extra for online viewing.
Below is a bit about some of the favorites in each race, as well as a list of others who I think will run well and be in position if some of the favorites don't come through.
The women's race is, in my opinion, the one with more drama. There are several contenders for the top 3 spots and just enough questions about most of them to be pretty unsure about what will happen.
Note: It was announced yesterday that Deena Kastor is out with an injury. I originally had her among the favorites listed. Sadly, I had to remove her before this got published.
Desi Linden
Linden is out for redemption. After qualifying to the 2012 Olympic marathon, she got injured and couldn't finish in London.
Her most well known race would have to be the 2011 Boston Marathon, when she was leading very late in the race and took both herself and Caroline Kilel to the very limit before Kilel edged her out for the win. She returned to near form in the 2015 Boston Marathon, where she ran with authority and didn't give in on her way to finishing 4th. It looks like she's ready for redemption and might be able to put some pressure on Flanagan.
She's healthy this time and, outside of Flanagan, clearly a cut above the rest. I wouldn't be surprised if she wins.
Shalane Flanagan
Bottom line, Flanagan is the class of the field. Her version of an off day is still good enough to finish in the top three, if not win the race. However, she may not be at top form.
Flanagan has a long list of credentials. Olympic bronze in the 10,000. World Cross Country bronze. 18 US Championships. 6 American records. Just to name a few.
The one red flag on Flanagan is that she apparently has had some injury issues in her buildup to the Olympic Trials that have hampered her training. I still would be surprised if she isn't fit enough to finish in the top 3. What would surprise me less is if those injury issues aren't completely resolved and strike on race day.
Amy Cragg
Fourth place at the Olympic Trials is a tough place to be. Cragg (Hastings at the time) was that runner in 2012. She knows the top contenders well, being a college teammate of Linden's and current training partner of Flanagan's.
She has one of the faster qualifying times and has to be mentioned among the favorites given her history.
Kara Goucher
She has the credentials. Not quite as spectacular but similar career credentials to Flanagan. However, she seems to have been on a downward slide recently. Her coach says she's ready. How ready? If she's living up to her credentials, she would seem to be a pretty sure thing. If recent history is a guide, though, she'd be a well known dark horse.
Others to watch
While there are more "favorites" than on the men's side, most of them have weaknesses or question marks. Don't count out runners like Annie Bersagel, Sara Hall, Becky Wade, or (for my fellow Wisconsinites) Lauren Kleppin (originally from Milwaukee) or Kellyn Taylor (originally from Sussex).
The men's field has changed significantly due to recent announcements. From a somewhat surprising late entry (Galen Rupp) to two late withdrawls (Ryan Hall and Matt Tegenkamp), this field looks quite a bit different than we were expecting a month ago. Regardless, this is a field that looks pretty top heavy, with the top three on paper at least separating themselves from the rest.
Note: I originally had Ryan Vail listed as one of the other contenders. Sadly, it was announced yesterday that he is out with injury so I removed him from that list.
Meb Keflezighi
Who doesn't know Meb? 2004 Olympic silver medalist. 2009 New York City Marathon champion. 2014 Boston Marathon champion. Especially with Ryan Hall out (and I'd argue even if Ryan Hall was in) the most credentialed marathoner in the field. We've been saying for years that he has to slow down at some point but he keeps surprising whenever you want to count him out.
Meb is aging but name three runners who you expect to beat him. Unless he has a bad day, which does happen with him at times, I don't see him finishing outside the top 3. His greatest accomplishments come in slower, more tactical races. Saturday's race will be just that. He has the proven experience and tactical intelligence. Nothing is a sure thing in the marathon but I'd be surprised if he doesn't make the top 3.
Galen Rupp
Rupp announced he's in just two weeks ago but his entry shakes things up quite a bit. While some suspect he still won't run, I expect him to at least line up. He may not finish, especially if he finds himself outside the reach of a top 3 finish, but I expect him to give it a shot.
Rupp has the credentials at shorter events. He has the speed. His performances at the 10,000 on the track and the half marathon suggest he is capable of big things in the marathon. However, he's never run one before. Who knows how he will respond to the distance? He's the wild card of the event. I don't expect him to lead early. However, if he can hang with the leaders to the late miles, it will be interesting to see if he can use his track speed or if the distance took that speed out of his legs. Given the fact that he won't be going out at a suicidal pace like his teammate Mo Farah in his debut, I think he will hold on and have enough in his legs to at least finish well.
Dathan Ritzenhein
Ritz is the last "surviving" member of that great trio of high school phenoms from the early 2000s. Alan Webb became a middle distance runner and retired a while ago. Ryan Hall went straight to the marathon after college and just recently retired. Ritz took the middle road and is still a contender. He now has the fastest PR in the field, though that PR is now almost 3.5 years old. When he's healthy, he's very dangerous. From what I've heard, he's healthy.
Ritz doesn't quite have the big name of Meb and Rupp but, if he is healthy, I'd actually pick him as the most sure bet to make the team.
Others to watch
While I think these three are a step above the rest, there are other contenders. Don't forget to watch for guys like Luke Puskedra, Bobby Curtis, Matt Llano, and Nick Arciniaga to name a handful of contenders.