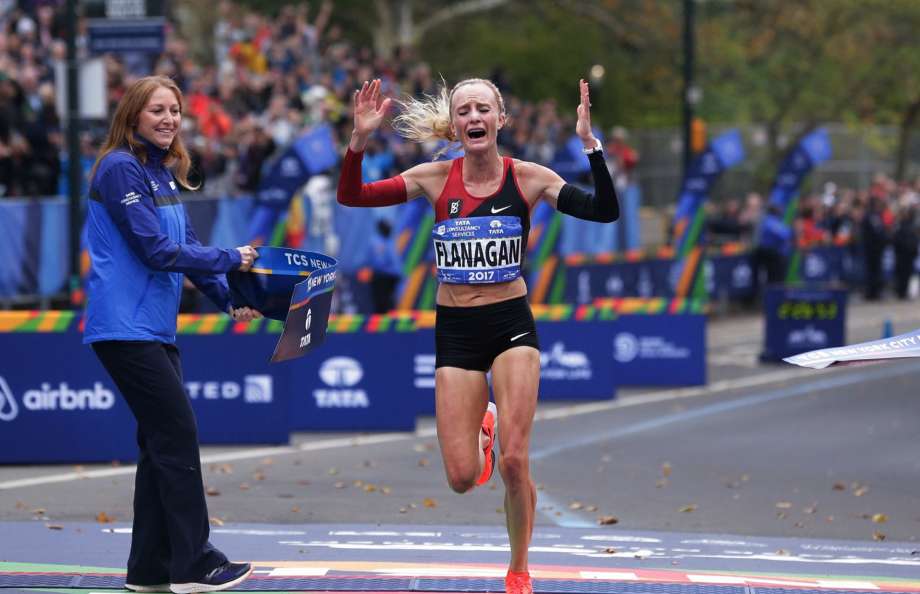 What a race, especially for American fans! We saw two long time American distance running greats in very memorable runs.
Shalane!
It feels like Shalane Flanagan has been around forever. I remember becoming a fan of hers during her college years. Later, when she joined former Badgers coach (and many former Badgers runners) as a member of what would become the Bowerman Track Club, my fandom grew.
Throughout her career, she's taken her (long) turn as the top American in about everything she has tried. From cross country to the track to the roads, she has been virtually unbeatable against all other Americans.
Unfortunately, the same can't quite be said on the international scene. From her Olympic silver medal in the 2008 10,000 to her close call marathon attempts in Boston and New York, including her second place finish in New York in 2010, she has always been an amazing competitor and among the best in the world. But she never got that major international victory. Until today!
Meb!
What hasn't Meb done in his career? From his own Olympic silver in the 2004 marathon to his own ending of not one but two long time American marathon droughts (New York in 2009 and Boston in 2014), he was one of America's top runners for at least as long as Shalane.
We knew for some time time that this would be Meb's last race as a pro. He was going to go out after running 26 marathons. The #TYMeb campaign took off (just see Twitter, even Kobe Bryant took part). Rightfully so. His finish today might not have been storybook but it was classic Meb. Good or bad, he always inspires.
Goodbye(?)
We know this is goodbye for Meb. Shalane offered some hints that this could be a goodbye for her. If so, what a way to go out!
If this is Shalane's last race as a pro, how fitting that they both go out in the same race. There are so many parallels to their careers. The longevity of both is simply amazing. Both are Olympic silver medalists. Both brought a long American drought at NYCM to an end. Both are incredibly inspiring. And both are the classiest people you could ask for to be leaders in the sport. Outstanding role models for the next generation.
We know this is the last we are going to see of Meb as a pro. It's possible this is the last we will see of Shalane as a pro. I have no doubt, though, that both will continue running for the rest of their lives.
To Shalane, congratulations on finally getting that big win!
To both Shalane and Meb, THANK YOU for being who you are. This sport is far better because you are a part of it.