This article was originally posted by Ryan at the original HillRunner.com Blogs.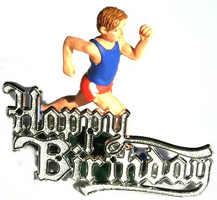 A less serious topic, just because (and it's not even my birthday, this was spurred by a conversation with another runner who recently celebrated a birthday).
I have often been asked why I don't celebrate my birthday with a race. Maybe it's because I'm not a huge fan of racing in Wisconsin winters, which complicates things with an early February birthday. Maybe it's because, while I've always thought of myself as a competitive runner, I'm a runner first and competitive second. Racing is an incredible experience and my running life would have a huge hole in it if racing wasn't a part of it but I don't run to race. I race because it's a part of the running experience for me. I sometimes enjoy a relaxing long run through nature even more than I do a race.
Or maybe it's because last time I did a birthday race, not running well was only half the story. Guys in the age group I joined just days earlier took 3 of the top 4 spots overall. What a welcome to a new age group that was.