This article was originally posted by Ryan at the original HillRunner.com Blogs.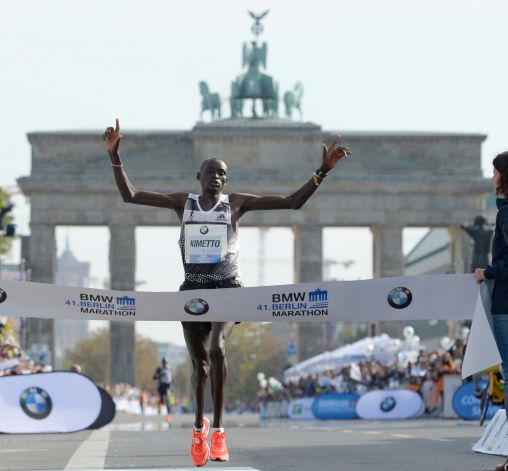 For those of you who haven't heard, Dennis Kimetto this morning shattered the marathon world record in Berlin with a 2:02:57. That takes 26 seconds off the former world record, held by Wilson Kipsang. With his customary second place finish (his sixth time finishing second at a major marathon) Emmanuel Mutai also went under the former world record.
I see three things with this world record.
First, what an amazing run. Notably, Kimetto had Mutai to run with until he broke away with about 2.5 miles to go based on reports I've seen. In fact, Mutai was the one pushing the pace for a while. Even when Kimetto broke Mutai, he had to push the whole way because Mutai didn't just disappear. Direct competition in a fast race like this can do one of two things. Sometimes, it causes the pace to slow as runners size each other up and play the tactical game. Other times, someone decides to just lay it on the line and go all out. In this case, obviously, the latter happened.
Second, let the Boston 2011 "record" be laid to rest. Geoffrey Mutai's 2:03:02 can be retired as the fastest time anyone has ever run but not the world record. Good riddance. I never liked that discussion. There's a reason standards need to be met in order for a course to be record eligible and the insane tailwind of 2011 proved why those standards matter.
Third, let the sub-2 hour talk heat up. The safe money is still on it being a long time before we see a sub-2 marathon but that won't stop some people from talking about it as if it will be in the next year or two.
Just a quick recap of why it will be a long time: The sport has undergone a drastic change in the last decade. There used to be big money in track and field and less money in the marathon. That balance has shifted. Between big appearance fees, big prize money including time incentives encouraging faster times and the World Marathon Majors prize structure, we see the marathon becoming a very lucrative pursuit. In the meantime, the 10,000 on the track has all but died. That's drawing the best of the best to the marathon and encouraging them to chase what just a decade ago would have seemed like insanely fast times. The result is a historical shift in the talent pool resulting in a relatively short term dramatic improvement in performances. The 10,000 meter world record on the track will turn 10 years old in 11 months and hasn't been seriously threatened in some time. That's because potential world record holders in that event are skipping it in favor of the marathon. In the meantime, Kenenisa Bekele who holds that world record is moving up to the marathon and will likely do well at the upcoming Chicago Marathon but won't set the world on fire with the world's second 2:02 because he's past his prime.
So don't expect a sub-2 hour marathon in the next few years but enjoy this amazing time in marathoning and understand that it's truly a historical period for the marathon. It will take at least one more historical shift like this, though, before we can expect the 2 hour barrier to fall.
Finally, congratulations to Kimetto on becoming the first person in history to run a marathon under 2:03. What an amazing performance.