This article was originally posted by Ryan at the original HillRunner.com Blogs.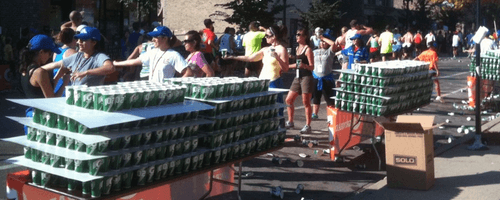 Writing about another study (I promise this blog won't become all about reviewing studies but this will be a part of it). This time, a study of how weight loss as a proxy for dehydration and myoglobinuria as a proxy for muscle breakdown are related to reduction in muscle power. Essentially, the idea of this study is to determine what the correlation is between late race muscle fatigue and two commonly held explanations for that muscle fatigue.
In a break from commonly held assumptions, body mass loss (the proxy for dehydration) did not seem to affect muscle power output. Participants in the study ranged from gaining body mass to losing more than 4% of body mass (that would be 6 pounds for a 150 pound person) during a marathon but loss of power output was not correlated with body mass loss.
On the other hand, there is a quite strong correlation between myoglobinuria production (the proxy for muscle breakdown) and muscle fatigue.
What does this tell us? Well, I would still strongly suggest not ignoring fluids during a marathon, especially a warm weather marathon. However, don't go to extremes. I recall a few individuals telling me that I should follow their hydration plans because they actually gained weight during marathons. Why should we believe that this is ideal? It's been shown that the best marathoners tend to lose weight during marathons, typically in the range of 5% of body weight but some even more. Now, we have more evidence that this singular focus on hydration may not help.
Instead, we should be focused on not breaking down our muscles. So how do we do that? We train our muscles. Nothing all that new here. Lots of long runs, lots of volume at faster paces. In addition, though, I think this suggests again the importance of not going out too fast. If you go out too fast, your muscles are going to break down earlier. This will reduce their ability to keep performing at an optimal level earlier than if you go out on pace or even negative split a bit.
With Boston coming, here's another thought. The early miles are downhill. Getting too carried away on early downhills will damage your muscles, especially the quads, even more. We all know (I hope) it's important to not get too carried away early at Boston. This likely explains one reason for that. Your muscles will break down earlier and you'll again lose your ability to perform at an optimal level earlier than if you play it safe on the early downhills.