This article was originally posted by Ryan at the original HillRunner.com Blogs.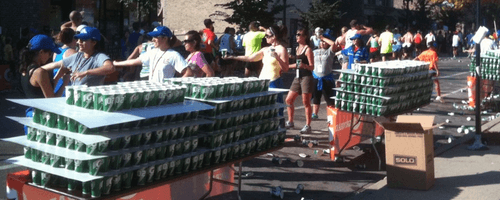 For terms of this post, I'm considering anything 90 minutes and under to be a "mid-distance" race. For most of us, that would be somewhere between 15K and half marathon at the upper limit.
This is something I've often wondered about. We know our bodies can store enough glycogen for about 90 minutes of running so how useful are sports drinks in a race of less than 90 minutes? Your body already has enough fuel on board, does it really help to top off the tank?
This study suggests the answer might be no.
What does this tell us? Well, we might be just as well off with water as with a sports drink during a race that is less than 90 minutes long. Topping off the tank doesn't appear to do anything for us. This is good news for runners who have sensitive stomachs and may not be able to handle sports drinks in shorter, more intense races.
Of course, as with all studies, this finds that on average sports drinks don't help. Your results may vary. However, if you have trouble taking a sports drink during a shorter, more intense race, don't get too worried about it. Especially if it gives you problems, you might be better off without it and the person next to you taking one may not be gaining a performance benefit anyway.