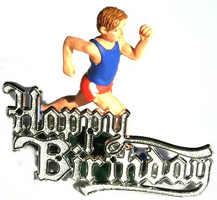 20 years ago today, after some time hosting a personal running page on the UW-Stout student pages, I registered the hillrunner.com domain and HillRunner.com was born. It's hard to believe it's been 20 years.
I just wanted to take a moment today, on HillRunner.com's 20th birthday to thank all of you. Whether your first visit was 20 years ago today or your first visit is today, I appreciate every one of you and am thrilled that you have found your way here and can be a part of this great community.
HillRunner.com has given me so much over the past 20 years and seen so many changes as what I aim to accomplish through it has evolved. Two things have always stayed the same, though.
First, the underlying goal of what I aim to accomplish through HillRunner.com always has been and always will be to give back to the running community that has given me so much.
Second, the great people who have become a part of the HillRunner.com community humble me every day. I don't even know what to say beyond that.
The Internet is much different than it was 20 years ago today. No surprise, HillRunner.com is also much different. I thought I'd look back through the Internet Archive just for fun to see some of the changes HillRunner.com has seen. Below are a few links via the Internet Archive's Wayback Machine:
The earliest archive: October 9, 1999.
In September 2002, a college teammate of mine tragically passed away while running a half marathon. I quickly added a tribute that is still on the HillRunner.com homepage today.
HillRunner.com at 5 years old (after covering the Olympic Trials the day before turning 5).
HillRunner.com at 10 years old.
HillRunner.com at 15 years old.
And, for those looking back at this post some time in the future, the most recent capture.
As for what I've been doing to celebrate 20 years, to be honest, I don't have any grand reveal.
What I have been working on is a lot of what people in the IT world call technical debt. The biggest issue I wanted to resolve for some time is a clean up of links.
Before I started the cleanup, HillRunner.com had over 10,000 links, most in some state of disrepair after many years of the Internet changing. I've done my best to fix links if possible, either by redirecting them to where pages have moved or by making heavy use of the Wayback Machine where pages have been removed and redirects couldn't be found. When neither of those options was available, I had no choice but to remove the links. If you see something that looks like a link crossed out, this is a link that has been removed. You can hover over it to see where the link once pointed to but the link no longer worked and there was no replacement available so I removed the link.
After these changes, there are still almost 9,000 links on HillRunner.com and the good news now is that every single link will be checked weekly. I can happily say that the large volume of broken links that formerly existed has become a thing of the past.
I've also been working on making the forums more user friendly. I would love to see discussions return there. I'll be doing what I can to start some topics and I hope some of you will also. The forums were once a very active and fun part of the site, I hope we can get some of that going again.
Once again, thank you all for making the first 20 years of HillRunner.com such a great experience. Hopefully the next 20 years will be even better!