This article was originally posted by Ryan at the original HillRunner.com Blogs.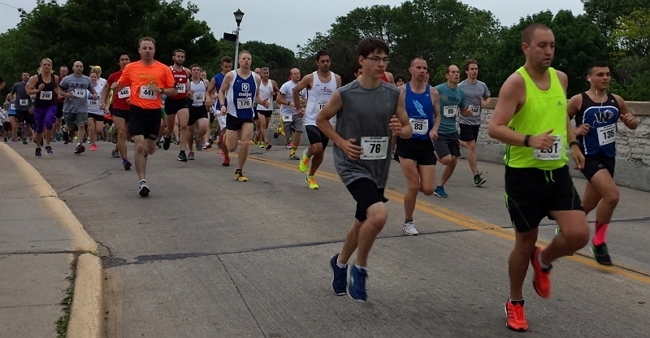 I haven't given many updates on how my running has been going here for a while. Before I get to the race, I'll offer a quick overview.
The winter went well. I thought my volume was a little off but my intensity was better. When I checked this year compared to last, my volume was nearly identical. If my intensity was better, then I was having a very solid winter.
In retrospect, my intensity was good but possibly not as well balanced as would have been ideal. Lesson learned. Tempo runs are great for base training but you at least occasionally need to crank up the effort level a couple more notches.
For the first time in over 20 years, I took a spring break this year. The family headed down to Florida for a Disney vacation, then we went to Alabama to see family. Needless to say, this wasn't the greatest thing for my training. I planned my training around this, though, so I could be in ultimate recovery mode.
Upon returning from vacation, I wanted to get in a race but didn't know how to fit it into the schedule well. The answer was run a race 6 days after returning from a 9 day vacation. Not ideal. The course also wasn't ideal and the competition wasn't there. I ended up winning a 5K in 17:44, second place was 21:24 so I didn't exactly have anyone pushing me.
4 weeks later, I was again looking for a race. I ended up at another small 5K on a constantly undulating course. No major hills but never on level ground. I ended up also winning that in 17:41. Not the same runaway effort but not really pushed in the second half of the race and the course left me less than motivated to keep pushing.
So that brought me up to Walleye Run, a race that has become a family tradition. The family makes the trip with me, then we hit the festival after the race to do all the kid friendly events.
This year, we arrived to find the weather very humid, a little breezy but not terribly warm. When I started warming up, though, I realized how much the wind would be a factor in the first half of the race. It wasn't terribly strong but, out in the open as we are for good portions of this race, it would be hitting you hard enough to have an effect. On the way back, I got a taste of how the return trip would be. Dead, humid air that just made everything feel stuffy and sticky. By the time I got back, I was sweating profusely and this was just from very easy running with about a 1/4 mile gradual acceleration. At race pace, this was going to be like running in a swamp.
As I was doing my pre-race strides, I saw a couple familiar faces, including an old InStep teammate. I don't expect to see InStep guys in Fond du Lac so that was a bit of a surprise but it was good to see him. We chatted a bit, then lined up pretty close to each other.
At the start, the usual crowd of fast starters got out ahead of me (you can see a couple of them in the photo at the top) but not like some years. I don't think I was ever outside the top 15. Usually, I'm at some point in the 20s at this race. Not sure if I got out better or the hard charging crowd was a bit thinner than usual.
About 1/4 mile in, we approach a median in the road. I was to the right of someone with someone just to my right and a half step back. The guy to my left moved out, forcing me out and the guy to my right made some comment that only I could hear. I think he was saying something about squeezing him out. Sorry man but I'm doing what I can. I didn't say anything but I was definitely thinking that. We did settle back in, though, and the median never became an issue.
As we rounded another turn, I found myself right around 10th, with a pack of 3 that had already separated themselves by a fair bit and a couple guys in no man's land before the chase pack I was in. I worked my way up to the front of the chase pack and found myself even with a guy in a green singlet for 5th/6th place at the mile. I had a period where the going felt a little rough so I let green singlet take the pace for a bit before I felt stronger and pulled up next to him. As I did so at about 1.5 miles, I said let's work together and get the guy in black ahead, we both can get him. From this point on, that guy in black was my focus. The guy in green fairly quickly dropped off the pace and I was alone chasing the guy in black.
The guy in black was a distance ahead so this was going to be a long term chase. I set out to close the gap gradually, while hoping I wouldn't run out of time. I grabbed a cup of water somewhere around the 2 mile mark and poured it over my head. A nice temporary relief from the humidity but short lived. Through mile 3, I kept focusing on the guy in black. I did notice at one point that the 3rd place guy was dropping off the lead two but he was so far ahead I knew he would have to completely fall apart for me to have a chance. My only real chance was the guy in black.
By the 3 mile mark, I knew I would be in competition with the guy in black well before the finish. I had closed the gap enough that making contact was nearly inevitable. The only question was how he would respond. As I continued closing the gap, grabbing another cup of water to pour over my head at one point, I was formulating a plan for the pass. Actually, more recalling my usual pass strategy. Surge a little and try to get past without him thinking he has a chance to hang. A little before the 4 mile mark, after focusing on this guy for 2+ miles, I got to put the strategy to work. I made the pass and he didn't respond.
Still, I put a lot of effort into catching him. I was worried that he might recharge and make a run at me. I put everything I could into the next mile to not let that happen. I kept pushing and the signs I could pick up on from the people cheering were positive. It appeared the gap was growing.
I kept telling myself 3/4 of a mile to go, 1/2 mile to go, 1/4 mile to go, what do I have left? The answer was not much. I did not have a spectacular kick, I really had no gas left in the tank. However, I made the pass and I separated myself. I didn't need a kick. I did all I could to bring it home as fast as I could but I had already left it all on the course.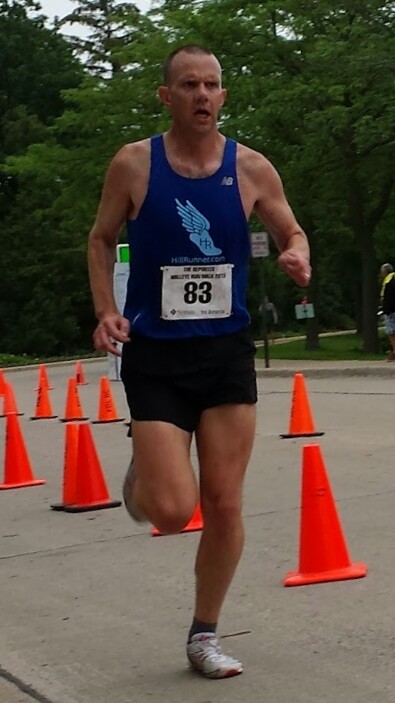 I crossed the finish line in 4th place in 28:52. Just as expected, the wind was a bit challenging on the way out and the humidity and dead air were stifling on the way back. All in all, I'm thrilled with my effort. I'm not ecstatic about my time but the time is understood given the conditions. I am very happy to be back in the top 5 of this event and to have run a very strong, very smart race. I couldn't have asked for more of myself on race day.
This is it for me for the spring racing season. I'm going to take a bit of time away from racing to work on my fitness, then gear up for the fall season.