This article was originally posted by Ryan at the original HillRunner.com Blogs.
I'm cheating a little bit and this week's blog post will be my race report. At this point, I don't intend to make this a regular thing but I simply have too much going on right now. Hopefully, things will settle in over the next week or two and I'll be back on a regular routine.
My lead up to this race wasn't ideal. It's been a very busy summer in general, then it turns out the Hootie Hustle happened to be exactly 3 months before the Seattle Marathon, which meant I spent the 2 weeks before the race writing training plans. I love helping these runners so it's a great joy doing so but I'll be honest. It's not exactly the ideal way to prepare for a race. Plus, I had a lot going on at work and at home.
That said, this is my hometown race. It's a race to support the scholarship program at the school district my daughter goes to. Not only do I want to run it but I want to do all I can to support it. On that note, HillRunner.com for the first time ever sponsored a race.
Proud to be among the sponsors!
I'm very proud to support this event and look forward to doing so again in the future.
As for the race, my preparation wasn't ideal but I am the two time defending champion heading into the third running of the event. I believe in myself and trust myself to do all I can to defend the title. The past two years, I ran faster than I would have expected on this course and I kept thinking I had more and maybe could even flirt with a sub-17 if things went right.
Given that, I showed up at the race to see a light rain falling as I checked in and went back to the car to stay dry. Ed showed up as I was pinning my bib to my singlet and parked right next to me. I relaxed a bit more, then got prepared for warmup time.
Ed and I went out for our warmup just as the rain was letting up and was down to virtually nothing. Maybe this would be like last year, drying out just in time for warmup and race time.
We arrived back just as the kids run was finishing up, went to our cars, then made our way toward the starting area at the track. I was making my way to the high jump apron to set up camp when the rain started coming hard so I decided instead to go under the bleachers and ended up finding a much more dry spot under the press box, where I stretched and got ready to do some strides.
Just as Ed and I were about to head out for strides, the rain let up but didn't completely stop so I grabbed my things and took them out to the high jump apron. Then we set off on a 1 lap acceleration and got in a couple strides before the start of the race.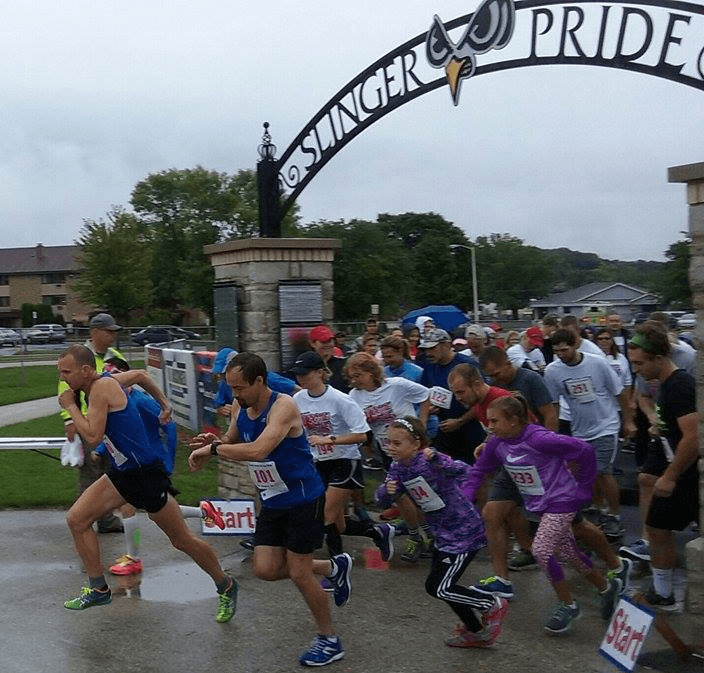 Hey Ed, whatcha doin'?
At the start of the race, I went straight to the lead. After slowing down to navigate a hard turn, I accelerated back to what I felt I could hold and found myself "alone" in front. By "alone" I mean nobody right next to me but I could hear at least a couple people right behind me, maybe a step or two back.
Around a few turns, then we head back into a residential area and start the long, gradual climb to roughly the halfway point. By this point, I can already feel that things aren't quite right. My legs are just flat. I can feel that the pace isn't really challenging me but I just can't go faster. My legs just won't go. At this point, I figure I'll ride out the climb and hope the downhill in the second half gets me going.
Through the mile, I can still hear someone right behind me and just have a sense it's Ed. I actually have a thought at about the mile mark that my time isn't going to be something I'm thrilled with so I could just drop back with Ed and help him through the race. Then I think better of it. I tell myself Ed would rather do this by himself. Besides, I'm still close enough that I'm giving him a target, which might work better than running with him to pull him through. Plus, a little selfishly, this is my home town race, not his. I want to make sure I do all I can to win. I know Ed is a speedster and I'm not so I don't want to leave it to a kick.
I work my way up to the middle school at the high point of the course and, while probably a little before the halfway point, given the early climb and late descent, what I think of as the halfway point effort wise. Starting a very gradual downhill, I try to find a good rhythm and stretch out the legs but now it's clear this race is going to be a battle. Just not my day for a fast time.
I keep pushing, steal a couple looks back to see Ed not far behind and another guy I recognize but can't quite place just behind Ed. I keep hoping Ed can gap this guy, while selfishly hoping I can get a little more distance on Ed.
Finally, we get past the mile 2 mark and hit a nice downhill. Again, I try to open up the stride but there's only so fast my legs are going to go. Even with the assistance of gravity, the legs just won't move faster. I do what I can and keep telling myself the finish line is near. Around a left turn, then a right, then a hard left and toward the track.
Almost to the track
Finishing with a lap around the track, then running into the 50 yard line of the football field, I know this means I have about 400 meters to go. I'm feeling fairly comfortable with my lead but I'm still not taking anything for granted. Again, I know Ed is a speedster and I'm not. I give it all I have as soon as I hit the track and try to separate a bit more. I'm not sure if it's working but I don't feel anyone coming up on me so I cruise in as well as I can.
As I'm approaching the finish line, I see the clock ticking toward 18 minutes. I think I can get in under 18 but it's going to be close. I'm pretty sure I cross the finish line with the clock showing 17:59 but I'm officially given 18:00. Oh well, it's not like this is a time I'm going to get excited about whether it's 17:59 or 18:00.
I then turn around and I have to say the highlight of the race for me was seeing Ed coming in right behind me. He finishes in 18:06 and third place, who I realized after getting home is actually the dad of one of my daughter's friends, is not too far behind Ed.
In reviewing the race, I got thinking about my races at the Hank Aaron 5K. I always struggle to run fast there, then have no problem running fast after that. I always chalked it up to the course and the early August heat and humidity. Now, I'm beginning to wonder if, after a summer of slower running due to the heat, I need one good race in my legs before I'm really ready to run fast. This year, I didn't do Hank Aaron so this became that race.
Regardless, I'm happy to get the home town win. I'm thrilled to see how well Ed ran. And I'm very motivated to come back at Al's Run and prove that I'm capable of more.