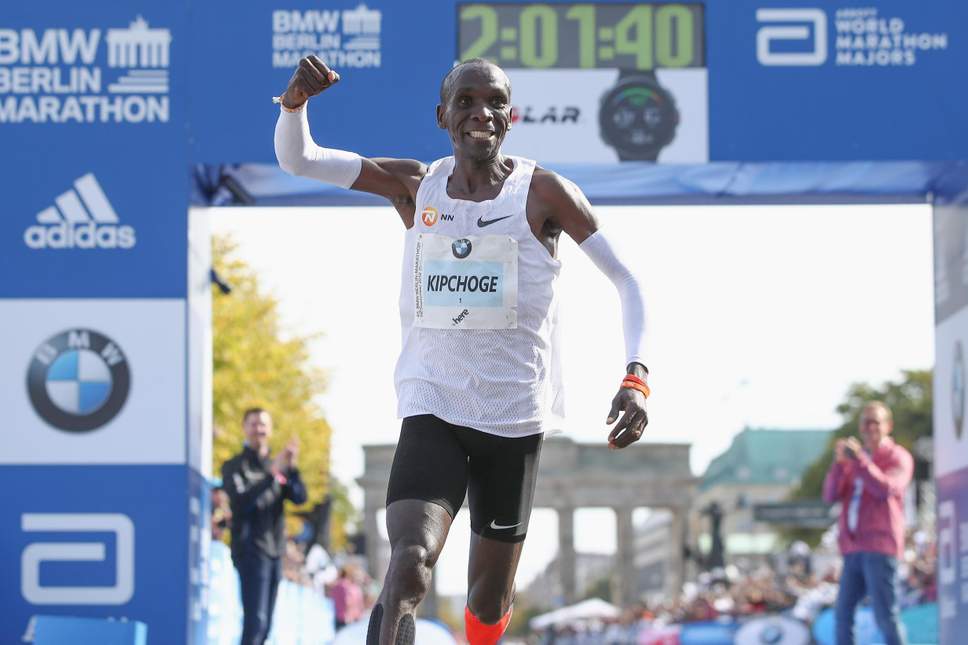 As I'm sure you are aware now, Eliud Kipchoge ran a world record 2:01:39 at this past weekend's Berlin Marathon, breaking the old world record by an astonishing 78 seconds. This simply expands on the resume of an amazing athlete who many were already calling the greatest marathoner of all time.

While I personally don't like the GOAT label, simply because it's hard to compare between eras, it's impossible to argue that Kipchoge isn't among the greatest. Here are a few facts to back this up:
Even before he moved to the marathon, he was a two time Olympic medalist (2004 bronze and 2008 silver in the 5000).
He added an Olympic marathon gold in dominating fashion in 2016, 12 years after his first Olympic medal.
Since 2013, he has run 11 marathons (12 if you count Nike's "Breaking Two" attempt). 10 times he finished first (11 including "Breaking Two"), once (2013 Berlin, his first World Marathon Major) he finished second. Total dominance for 6 years in an era where top marathoners seem to last about 2 years.
The only person to ever beat him in his 11 (or 12 if you count "Breaking Two") marathon attempts was Wilson Kipsang. Kipsang ran a world record in that race.
It's been over 50 years since we've seen the world record broken by this much.
I have a few random takeaways from this race and Kipchoge in general, spanning a few different topics:
Kipchoge has a legitimate claim on GOAT
I already mentioned I personally don't like the GOAT label. By its nature of comparing across very different eras, it's a subjective call. That said, if someone tells me he's the GOAT, I can't pick out one guy who I can demonstrably argue was greater. For those who like that label, it seems pretty unanimous right now that he gets it.
He's a great example of turning failure into success
It's hard to look over Kipchoge's marathon career and see failure. However, his marathon career only began after he didn't get selected to compete for Kenya on the track in the 2012 Olympics. Maybe he was on his way to the marathon anyway but he didn't let this failure to run in the 2012 Olympics set him back.
This is a great lesson for all runners. A failure is only a failure if you don't move on and grow from the experience. Don't be afraid to fail. It's not a bad thing if it's a stepping stone to success. All of the greatest in any pursuit, even the great Eliud Kipchoge, have worked through many failures on their road to success. Failure is a rite of passage on the path to success.
Did he just change the marathon?
Is this going to open a flood of sub-2:02 or at least sub-2:03 times? Will this performance make sub-2:00 closer than it was just last week or does it mean we won't see another world record for a long time?
Short of him breaking his own record, I'm leaning toward the latter. We are watching a special athlete. One could think of him as the Usain Bolt of the marathon. His performances may not be replicated by another runner for some time.
That said, there are some good reasons to believe the argument that he just changed the marathon and the course of the event's history. We've seen before where a "barrier breaking" performance is followed by others crashing through the barrier. Could this be one of those cases? I'm a little skeptical but it's not impossible.
In the end, whatever comes in the future, I hope you can at least enjoy this special moment. Whether this is the beginning of a new era in the marathon or we will soon discover that Kipchoge is truly a special talent whose performances won't be matched for a generation or two, what we are witnessing now is incredible and inspiring. Make sure you enjoy the greatness of Kipchoge while you still can.