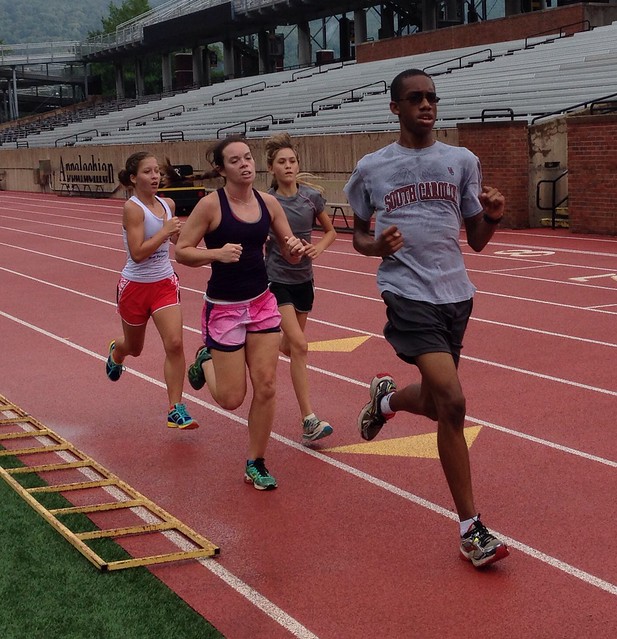 Last week, I wrote about what makes a good training plan. In it, I said it's a plan that allows you to accumulate consistently good runs and workouts.
So what's a good workout?
The biggest mistake I see people make when talking about good workouts is focusing on two numbers: reps and splits. 10×400 at 75 seconds is better than 10×400 at 80 seconds. 4×1 mile at 6:00 is better than 3×1 mile at 6:00.
There's more than that, though, even if you don't account for the possibility that 75 seconds per 400 or 4 miles might be overreaching, making the workout unsustainable.
What were your recovery times? What kind of weather were you facing? What has your training the past few days looked like? What do you have going on outside of running? How did you feel?
All of these things matter when it comes to determining what a good workout looks like.
Sometimes more repeats or faster times does not always mean the workout was better. If the weather was worse, slower may be a good thing. If you were intentionally running your recoveries faster to get a different stimulus, your repeats may have necessarily been slower. If your overall training load has recently been higher, you may be more fatigued and fewer repeats may be necessary.
One thing I think a lot of people overlook is how they feel. Sometimes it's a real accomplishment to run a workout at the same pace as you have a few weeks ago but be able to do it while feeling better. Especially if a goal race is nearing, this allows you to express and feel your fitness gains without pushing harder than necessary.
Finally, remember what I mentioned last week about sustainability. If your workout is not sustainable, your training plan will not be sustainable. Don't over extend yourself on any individual workout. Keep things controlled. I often like to use the idea that you should always feel like you would be able to do "one more" if you absolutely had to.