This article was originally posted by Ryan at the original HillRunner.com Blogs.
My second of two race reports from August races.
the Hootie Hustle is a second annual event supporting the scholarship fund at the school district I live in so I feel an obligation to show up. Besides, last year I discovered that it's a pretty nice course overall and it had better competition than I was expecting. Plus, this year, I'm unable to make it to the Jamie Block Alumni Meet at UW-Stout so it's the perfectly timed replacement for that as a final Al's Run tune-up.
As I mentioned, this course is pretty nice overall. I wasn't expecting so much in Slinger, a pretty hilly town. However, they found a course where you have a long, gradual climb in the first half and a long, gradual descent in the second half. Before the race this year, someone mentioned the middle school, roughly the high point of the course, is 130 feet higher than the start/finish area, roughly the low point. So it's not like we're mountain climbing but it's hardly pancake flat.
As I arrived at the course, I found an open parking space and, as I was pulling in, realized I ended up parking right next to Ed. We had a quick conversation, then I wanted to pick up my packet. Ed decided to join me so we walked together to the packet pick up. It was kind of drizzly/misting but, otherwise, not too bad of a morning. Honestly, I was thinking that precipitation might be a benefit because it was humid. Without the precipitation, it could get downright stuffy. With it, at least there was something to help cool you down.
Ed and I warmed up together, scouting out a bit of the early part of the course and the last mile or so of the course. After some loosening up, strides and scouting out how slippery the field turf football field we'd be turning on to for the finish gets when wet (not very) it was time to line up.
At the start, you pretty quickly hit a U-turn onto the street. Before that, i was out into the lead. Around the turn, I played it a little cautious and someone got past me. I fairly quickly got back in front and then was in the driver's seat. For some reason, I felt like I was working hard but not going as fast as I would have hoped. As we climbed the hill, I could hear someone on my back. I could tell he was working hard but not giving in. I didn't want to kill myself up the hill and turn myself into a rabbit so I kept the pressure up but didn't fully open up. Then we got to the middle school and I knew that, generally speaking, it was all downhill from there. By that time, I felt a little more in sync and began pushing a little harder. Around a hard right that slowed me down, then into some neighborhoods. I pushed through that stretch then, at the 3K mark around a turn I stole a look back. I definitely built a gap but not as big as I had hoped. Knowing I didn't have a whole lot to go and a great downhill was coming, I raised the effort level a little there.
Around another turn, through the 2 mile mark and into almost the perfect downhill. I leaned into the hill, tried to make the most of it but felt I wasn't really accelerating much. By the bottom of the hill, I was just pushing with all I could.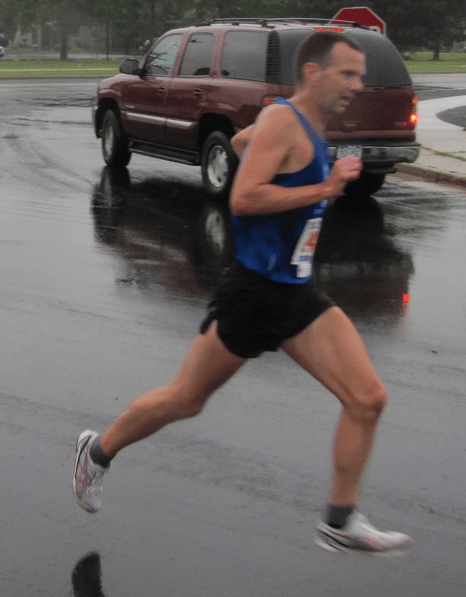 You can see how wet it was, not ideal but not as bad as 85 and sunny would have been
Around a left turn, then just before a right I could see the scoreboard clock. 15:03. I pushed the pace thinking I'd be at least in the low 17s and maybe have a shot at sub-17.
I didn't realize quite how far I still had to go, though. By the time I hit the track, the clock was right around 16 flat. I was pushing as hard as I could but, even in an oxygen deprived state and without trying to do the math, I knew a sub-17 effort would require the kind of sprint I don't have when I'm rested, much less at the end of a 5K. I still gave it all I had, around the track for about 300 meters, then onto the field and finishing at the 50 yard line.
I saw 17:15 on the scoreboard as I crossed the finish line, then thought Ed should be around. Sure enough, he was on the track. I tore my pull tag off, then got around to cheer him in. I could see he was clearly on track for sub-19, I started telling him he has sub-19, how far under can he go? He seemed to pick up the pace some but not a whole lot. One of the finish line workers said something about me telling him sub-19 and I told him it was his goal and would be a PR for him. I think he was quite impressed when Ed crossed in 18:30.
After a few pictures, Ed and I headed out for a cooldown through a different part of town. All said, I have to rate this as a successful day for Team HillRunner.com at the Hootie Hustle. Sure, I would have liked sub-17 but I scored the win and this tells me I'm well on the path to sub-17 this fall. Ed got a top 3 finish and a huge PR. I'm looking forward to seeing what we both can do at Al's Run.