This article was originally posted by Ryan at the original HillRunner.com Blogs.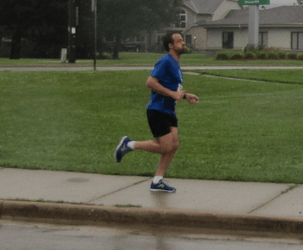 Ed ran a 52 second PR in a 5K this past weekend! 52 seconds in a 5K, that's insane! Over 15 seconds per mile improvement off a respectable time for a runner of his age and background.
How did he do it? Well, a lot went into it.
However, I'd like to point out one factor right now. He didn't limit himself. To be honest, I would have had him running with even fewer limits if it were up to me. I wanted him to run watchless and suggested before the race doing so. He wanted to wear his watch to keep himself from going out too fast.
It's true, we can't run with reckless abandon. Ed would have been foolish to go out in 5:00 for the first mile. That said, if I recall, he set a target of 6:07/mile to start. He did tell me, I think to reassure me, that he was only going to pay attention to his pace early.
It's a good thing he did. Had he paid attention to his pace throughout and stuck with that 6:07/mile target, he would have run only a 22 second PR. The artificial limit he placed on himself would have left him 30 seconds short of what he obviously was capable of.
I see people do this a lot. They get the idea that they are "only" capable of some given performance and they don't let themselves just run. As a result, they finish feeling good and questioning how well they may have run.
Don't do this to yourself. Learn how a race effort should feel through practice, then run by effort. If you're ready for something special, something that might even surprise yourself, this is how you're going to get it done. You're not going to get it done by placing artificial limits on yourself, then only running to those limits.